Farming in Southeast Asia is often accompanied by burning of agricultural byproducts. Such practice contributes to air pollution, particularly PM2.5 particulate pollution. During post-harvest period, the burning in farmland was relatively common and found to have relatively extensive impact.
Several sectors are aware of an urgent need to address the problem. Thailand Environment Institute, the United Nation Environment Programme (UNEP), the Asia Pacific Clean Air Partnership, Live and Learn, Global Alliance on Health and Pollution, Vietnam Clean Air Partnership and Korean Ministry of Environment discussed the burning in farmlands at the Third Asia Pacific Clean Air Partnership seminar held online in early September 2021. The discussion included exchange of views and opinions on relevant case studies from Thailand.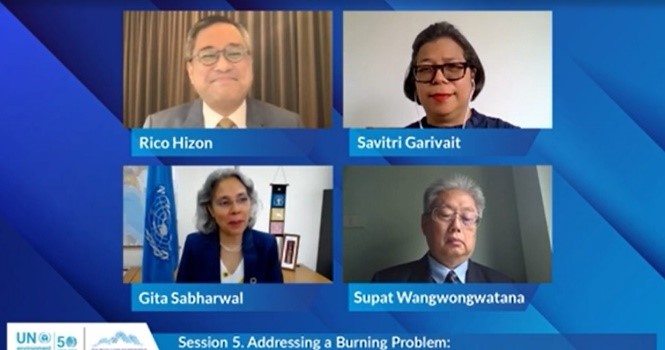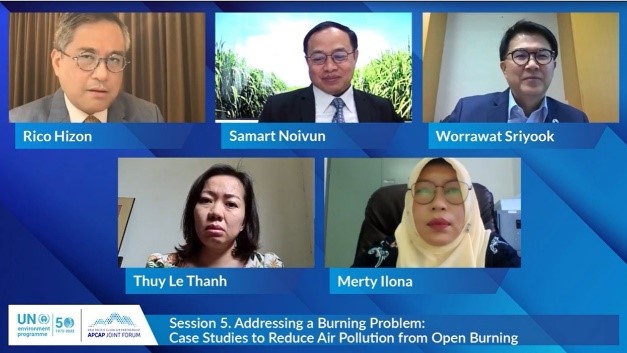 An all year round problem of open burning in Southeast Asia
Open burning is connected to activities to prepare fields for cultivation or to remove agricultural byproducts during the post-harvest period. A satellite survey found that open burning generally occurred during dry season (November -April) in CLMVT countries (Cambodia, Lao PDR, Myanmar, Vietnam and Thailand). The burning in farmlands was accompanied by forest fire in southern countries of Southeast Asia including Thailand, Brunei, Indonesia, Malaysia and the Philippines in the month between August and October. The burning of agricultural byproducts was found scattered throughout the countries while forest fire was noted to generally occur in peat swamp forests.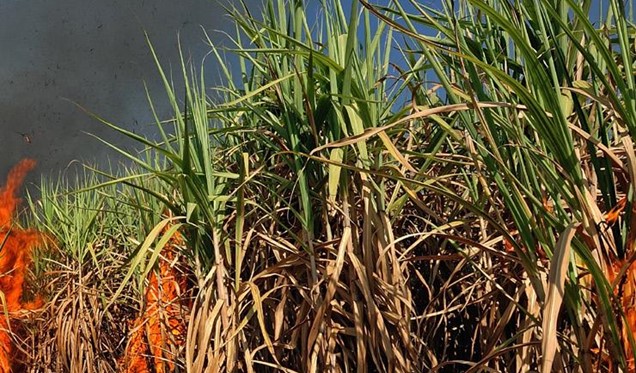 "Burning in farmlands in northern countries of Southeast Asia during November-April is followed by forest fire and the burning in southern countries during August-October"
Asst. Prof. Dr. Savitri Garivait,
an expert form the Joint Graduate School of Energy and Environment of King Mongkut's University of Technology (Thonburi) pointed out an absence of any decline in the burning in the southern countries of Southeast Asia during Covid-19 epidemic of the past few years despite restriction on travel and activities brought about by lockdown measures.
The United Nations promotion on Smart Farmer as an effort to mitigate the burning
Mrs. Gita Sabharwal
, UN Resident Coordinator in Thailand, referred to a study on burning of agricultural byproducts and took note of the activity's contribution to PM2.5 particulate pollution, emission of carbon dioxide and climate change. She pointed out that the United Nations is committed to addressing the problem and supported development of guidance for integrated management of biomass burning by taking into account social, economic and environmental impacts as well as effects from transboundary pollution.
The United Nations made available global supports to addressing the problem including by providing technically sound guidance for the management, building national capacity, supporting global adoption of the Smart Farmer concept, cooperating with private sector to address the lack of market and developing standards or norms for sustainable farming.
Reduction and management of the burning in the region
Dr. Supat Wangwongwatana,
Senior Advisor of Thailand Environment Institute, pointed out several actions taken by Thailand to address burning of agricultural byproducts. These include development of technology for monitoring air pollution, introducing methods for enhancing microbial decomposition of agricultural byproducts, adding value to the byproducts, developing machinery for disposal of the byproducts, supporting famers to adopt divergence timing for cultivation, adopting technical guidance on controlling amount of biomass for forest fire management, using technology to locate forest fire, establishing forest fire surveillance groups, increasing community participation in creation of buffer zones and allowing locals to use forestland providing that no timbers is harvested.
Ms. Thuy Le Thanh,
Head of Project Management and Communication Division at Hanoi Environmental Protection Agency of Hanoi Department of Natural Resources and Environment took note of Vietnam's growing awareness on problems associated with burning of agricultural byproducts due to actions by local communities and worsening particulate pollution. A directive on addressing the burning was adopted in 2017 and a research conducted in the same year revealed that 40% of rice straw were disposed by burning. The finding mobilized collective actions by various groups with the view to find tangible solutions. A ban on burning of the straw and solid waste was enacted in 2020 and a following survey found reduction in the burning to 20%. Other notable measures adopted by the state include building public awareness on health impacts from the burning, development of models to display impact areas of the burning, enabling application of case studies' findings and adopting fiscal measures to support farmers' actions.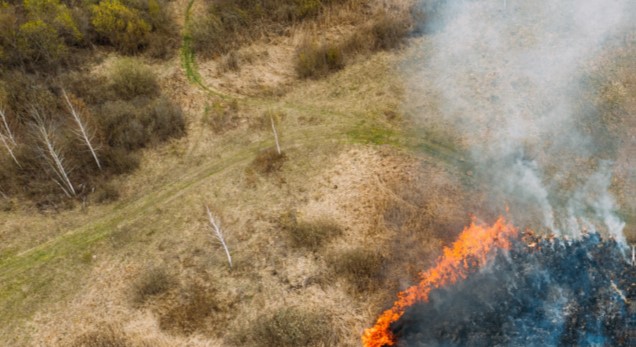 "The burning in Central Kalimantan is mostly derived from fire in swamp forests and incineration in farmlands"
Ms. Merty Ilona,
Head of Division of Pollution and Environmental Damage Control at Environment Agency of Central Kalimantan, pointed out that most open burning in Kalimantan was caused by fire in peat swamp forest. She noted that between the year 2015 and 2019, forest fire incinerated around 969,517 hectares or 60.17% of peat swamp forests. Most forest fire was found in Central Kalimantan and accounted for 43.8%. Fire was reportedly occurred in 641,265 hectares of lands outside the forests and accounted for 39.81% of the total area Kalimantan. Such fire is more common in the southern part of Kalimantan. Ms. Ilona took note of the state actions to establish fire control units, identify hotspots on the island, provide forecast on forest fire, take preventive steps against the forest fire and burning in farmlands, build public awareness and knowledge on the issue and adopting legal measures to regulate the causes of fire.
Efforts of the state and private sectors to reduce the burning in Thailand.
Mr. Samart Noivun,
Director of Strategy and Planning Division at the Office of the Cane and Sugar Board, pointed out Thailand's target to phase out sugarcane burning by the year 2024. To meet this target, milestones were identified to reduce the burning in sugar plantation to less than 10% by the year 2022 and to below 5% by the year 2023. In addition, actions to meet these targets are accompanied by several activities including building knowledge of stakeholders, making available technology for harvest of sugarcane, enacting supportive legislation and enabling farmer to have better access to machinery such as 300 sugarcane leaf removers available for renting. Mr. Noivun credited the actions for significant reduction in sugarcane burning during the past 4 years.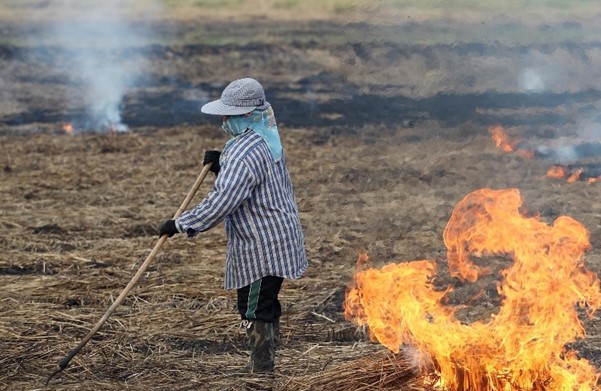 "Burning of farmland is not a desirable option for farmers but rather a necessity derived from labor shortage in farming sector and a need to reduce cost"
During the past few years, sugarcane burning was on the decline. The burning was found to drop from 61% in 2018 to 26% in 2021 due to adoption of incentive measures by the state and cooperation between stakeholders. Notable measures for farmers include fiscal supports from the state for purchasing machinery. This measure is accompanied by creation of small and medium farmer networks to ensure effective use of the machinery.
"Farmers lose 30 baht for every ton of burned sugarcane and gain extra 30 baht for every ton of freshly cut sugarcane sold to factories"
Mr. Worrawat Sriyook,
Vice President for Corporate Sustainability at Mitr Phol Sugar Corporation., Ltd. pointed out the labor shortage as the main cause of sugarcane burning. He noted that with a given number of labor available, freshly cut sugarcane take 3 times longer to harvest than burned sugarcane, affecting timely delivery of the harvest to factories. Since 2018, Mitr Phol Sugar Corporation., Ltd. has promoted reduction of sugarcane burning and encouraged harvest of freshly cut sugarcane by deducting 30 baht for every ton of burned sugarcane and paying extra 30 baht for every ton of freshly cut sugarcane sold to the firm's factories. This incentive measure was accompanied by cooperation with the state to promote reducing of the burning, prosecute violators of the burning ban and use of machinery to compensate the lack of labor force.
In addition, Mitr Phol Sugar Corporation., Ltd. promoted effective use of machinery for disposal of agricultural byproducts by purchasing sugar leafs and rice straw at 800-1,000 baht per ton in order to used them for biomass energy. In 2020, the firm paid over 300 million baht to buy more than 300,000 tons of sugar leafs. Mitr Phol Sugar aims to purchase 450,000 of sugar leafs by the end of 2021 with the view to mobilize efforts to reduce the burning and mitigate air pollution.
Recommendations on addressing the burning in farmlands
At the online seminar in September 2021, contributors and other participants from various countries recommended a number of interesting actions to address burning in farmlands. These include;
Providing information and options to farmers who are the mobilizing force for actions. Such action is critical to secure farmers' approval of conditions put forward by state agencies. The farmers must have concise knowledge and understanding on the issues including options for disposal of agricultural byproducts, insight on relevant market options and impacts from burning in farmlands.
Promoting collective organization of farmers to ensure effective use of machinery and reduce the cost of purchasing and for maintenance.
Supporting Start-up enterprises that utilize farming byproducts and manufacture environmental friendly products derived from burning-free farming.
Enabling cooperation between the state, private sectors, farmers and the academics as well as other stakeholders to address the burning in association with the entire supply chain of sugar production and to conduct research on enhancing effectiveness of means and ways to reduce the burning in farmlands.
Enhancing consumers' understanding in choosing environmentally friendly product.
Better public knowledge and understanding at local levels and regional cooperation on the issue are critical for this and future dialogue at regional level. A country of the region should take note that domestic success on the issue cannot prevent impacts from the burning in neighboring countries since burning related air pollution is transboundary in nature.
---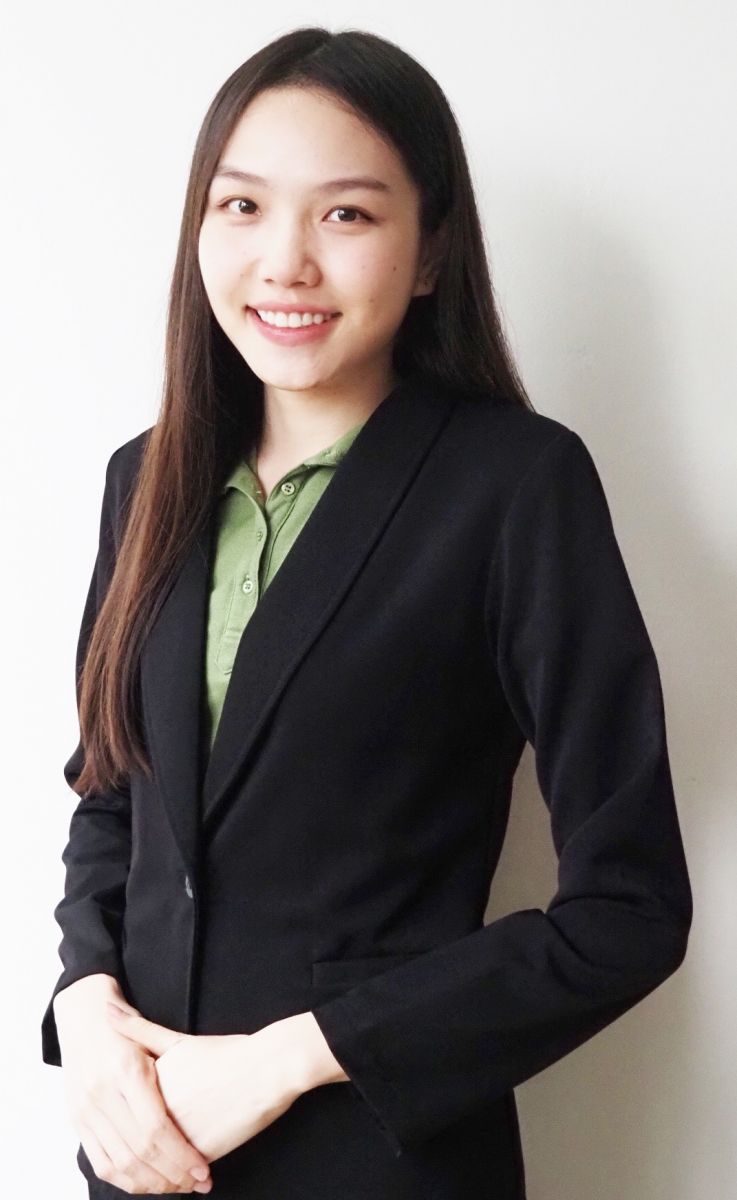 ฺBoonyaporn Juethong
Assistant Program Officer
Thailand Environment Institute (TEI)