Waste to Energy, what is a Solutions?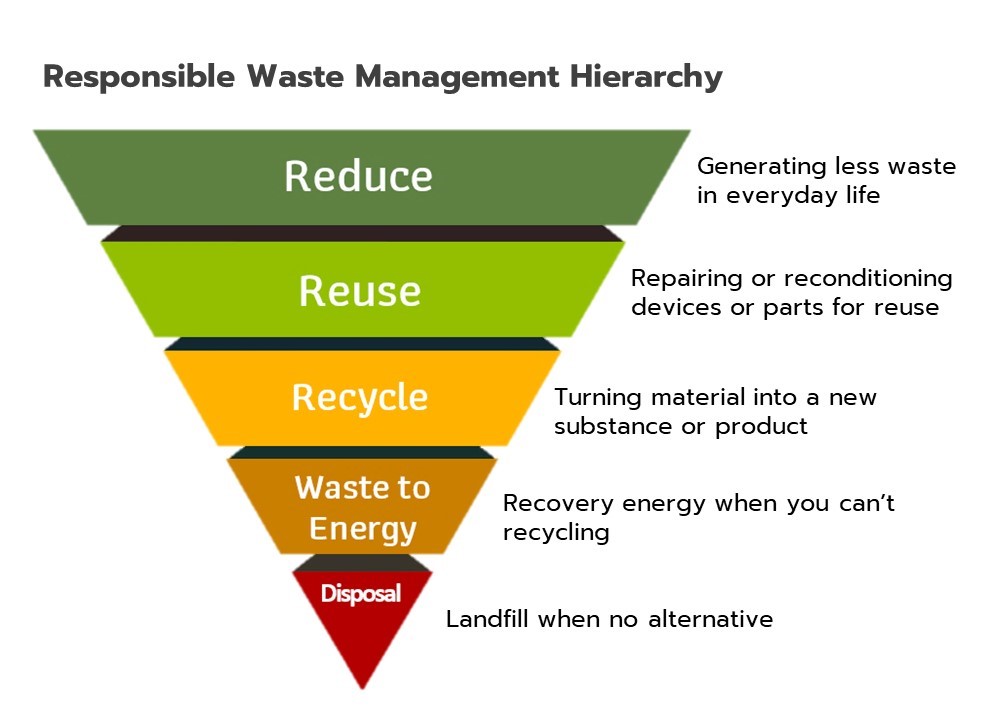 10 พฤษภาคม 2564 | 11:15 น.
Although solid waste problems have been declared a national agenda since 2014 and every concerned sector has been committed to address the problems, amount of solid waste from urban areas has continued to increase and parts of the waste were still inappropriately disposed. According to the 2019 information from Pollution Control Department, solid wastes generated from urban areas was found to be 28.7 million tons per year or a daily waste generation of 1.1 kilograms per capita. Of these, plastic waste is noted for its significant impacts on the environment. Over 2 million tons of wastes were properly disposed but only 25% of these were recycled. Despite the increase in recycle, significant amount of wastes remained inappropriately disposed and would likely have detrimental impacts to groundwater, induce fire and affect public health.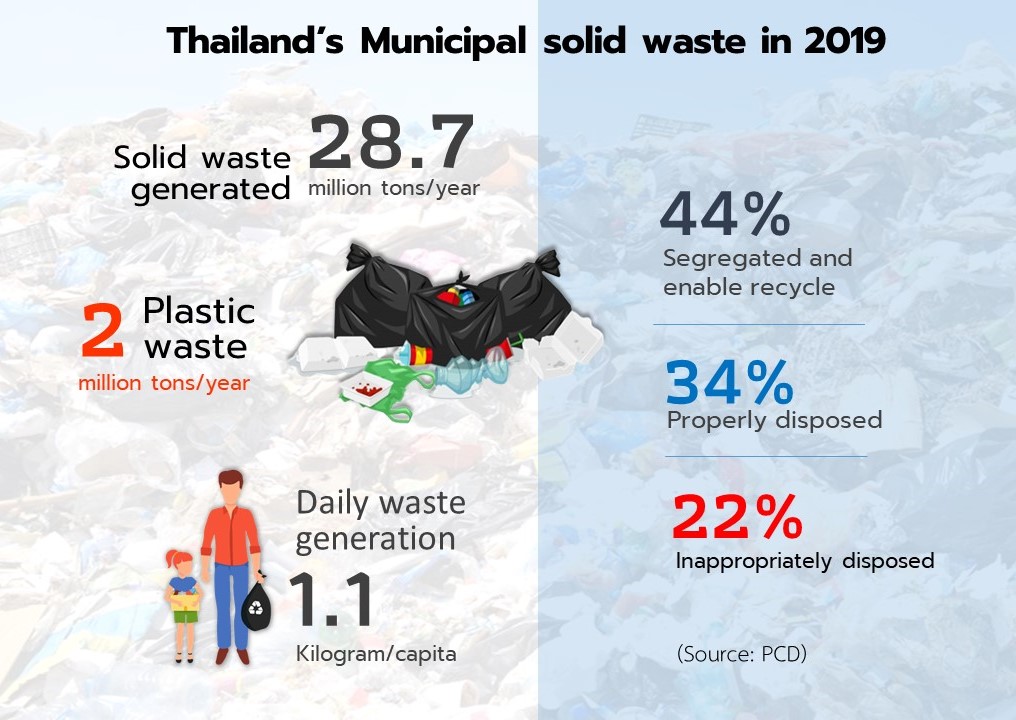 Thailand Environment Institute (TEI) noted that collective disposal of solid wastes obstructed efforts to enable appropriate treatment of each type of wastes, particularly food and other organic wastes which constitute up to 45-60% of wastes generated. Segregation of these and other kinds of wastes could significantly lessen the problems and burdens in waste management while actions could be taken to address plastic waste problems including by phasing-out single-use plastic and adopting Circular Economy for management of plastic waste.
Waste to Energy: Waste management as a primary focused and power generation as a by-product
Increase in amount of solid wastes, presence of unattended wastes and inappropriate disposal of the wastes at several sites nationwide have driven the need to address waste management agenda. This include mobilization of efforts from every concerned sector to take actions in accordance to the government's waste management roadmap and the 2016-2021 master plan on waste management which places a priority on energy solutions for waste disposal or Waste to Energy.
Since conventional landfills generally require large space of land and components of disposed materials have become less degradable, disposing waste by technically sound incineration with pollution control measures and mechanisms has become more viable and effective and can minimize energy loss from disposal of materials.
In addition to the incineration which generates thermal energy for both direct use and for power generation, the energy solutions for waste disposal also include biogas generated from landfills.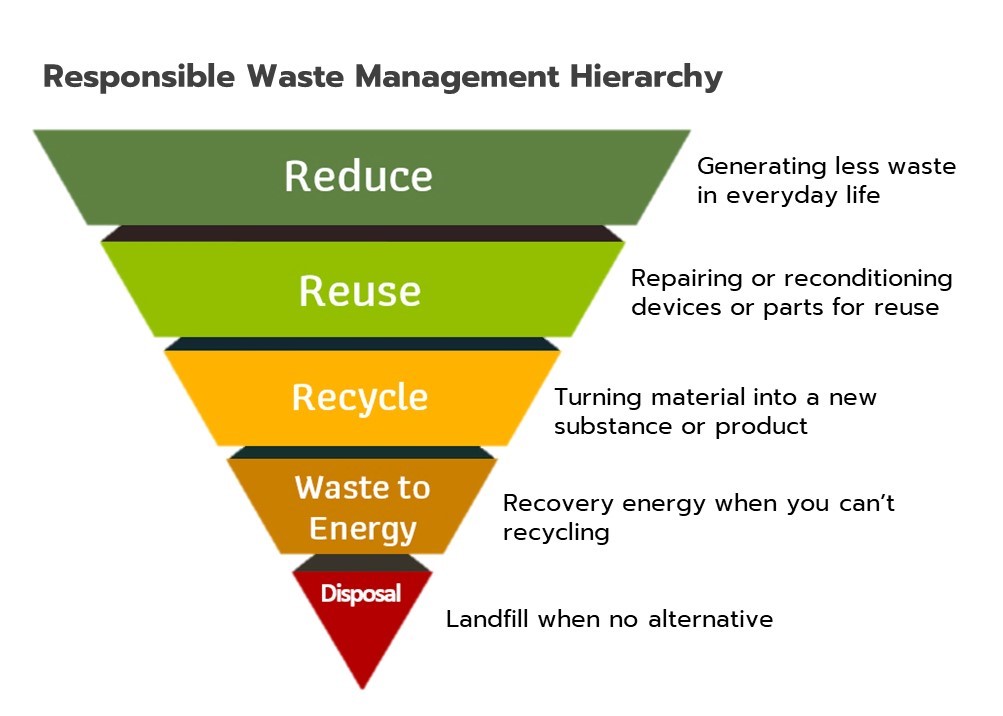 Power generated from disposal of waste from urban areas and industry can be useful and constitutes a supplement for the country's power generation as envisaged by relevant national policies. Electricity supply has been purchased from 11 projects (Quick Win Projects) where wastes from urban areas were used for generating a total supply of approximately 86 megawatts of electricity under the original Power Development Plan or PDP2015. The first revision of the plan or PDP2018 aimed to expand the supply to 400 megawatts of electricity by the year 2037. The revision was made by Ministry of Interior, Ministry of Energy and Energy Regulation Commission (ERC) and over 20 projects with total supply of roughly 100 megawatts of electricity have been approved under the revised plan.
However, each of most local areas generates too little waste to make power generation from waste material a viable option for investment (a daily waste of at least 300 tons would be required), Ministry of Interior organized clusters of local administrations for endeavors on energy solutions for waste disposal by mandating that distance for transport of wastes must not exceed 30 kilometers.
Currently, small private enterprises generate power from waste disposal with investment of less than 1 billion baht (thus being exempt from the 2013 Private Investments in State Undertakings Act) and their problem in securing consistent supply of waste materials from local administrations. He pointed out that in order to address the problem, a Cabinet decision instructed Ministry of Interior to revise laws and regulations so that they could accommodate local administrations to fill for permission to carry out such enterprises themselves.
The future directives for size and structure of facilities to generate power from waste should ensure environmentally sound operation and acceptance by surrounding communities. She added that the sites should be sufficiently large enough to accommodate management of wastes from the operation such as sewage and ashes, and trees should be planted to create buffer zones between the sites and adjacent communities in order to minimize their exposure to odor and suspended particulates.
Concerning the questions on whether operators or responsible agencies should bear the cost in monitoring pollutions from the power plants and on frequency of laboratory test for polychlorinated di-benzo para-dioxins, Although, monitoring of the power plants were conducted annually and the plants themselves were installed with equipment to measure pollution by their operators. The government was provided with additional information from Pollution Control Department and Provincial Offices of Natural Resources and Environment and that the information on toxicant and other tests were verified by state agencies. Thet failure by the plants to keep pollutions within the standard or by the law would likely become appearance by their impacts on surrounding communities.
On pollution monitoring, the Continuous Emission Monitoring System (CEMS) has to be installed to any facility that generate power from wastes in order to provide reports on pollution emission to relevant state agencies. Concerning the cost of the third party inspection of the power plants, the inspection should be specified in the term of reference (TOR) in order to indicate the wish and willingness of the operators to pay for assuring that their operations do not cause significant environmental and other impacts to surrounding communities. Moreover, a possible option of formulating trilateral committees to inspects the operations.
3Rs A pre-existing concept in need of wider adoption
Every participant in the seminar shared a common opinion that the energy solution for waste disposal (Waste to Energy) is among final stages of waste disposal. They noted that waste management must begin from minimizing waste generation through the concept of reduce, reuse and recycle(3Rs) and only those that cannot be subjected to this concept are to be disposed in landfills or by using them to generated energy with various technologies.
Management of wastes at the stage of their generation and collection (and segregation) is not particularly complicate while waste management at disposal stage is usually a complex undertaking. Local administrations and their clusters that generate relatively little waste would likely to find the waste disposal less viable economically and need to place more focus on waste generation and collection.
It should take more efforts on waste segregation, particularly for food and organic wastes which constitute over a half of waste generated and are usually disposed with other kinds of waste. She took note of various reasons for poor waste segregation ranging from ineffective communication on waste segregation systems to the lack of prudence on waste disposal. Ms. Chotthong recommended separate food and organic waste from other waste at initial disposal in order to reduce quantity and moisture of the waste and make them more compatible for incineration and power generation.
While consumers' awareness and responsibility are of significant important for management of wastes at the stages of their generation and collection, manufacturers can directly contribute to such endeavor by enabling environmentally sound product planning and design (eco-design) and selecting materials that are more durable and easier to disassemble for recycling. The state is obligated to provide for recycling systems and to build public understanding and assurance that segregated wastes would not be disposed together in conventional means.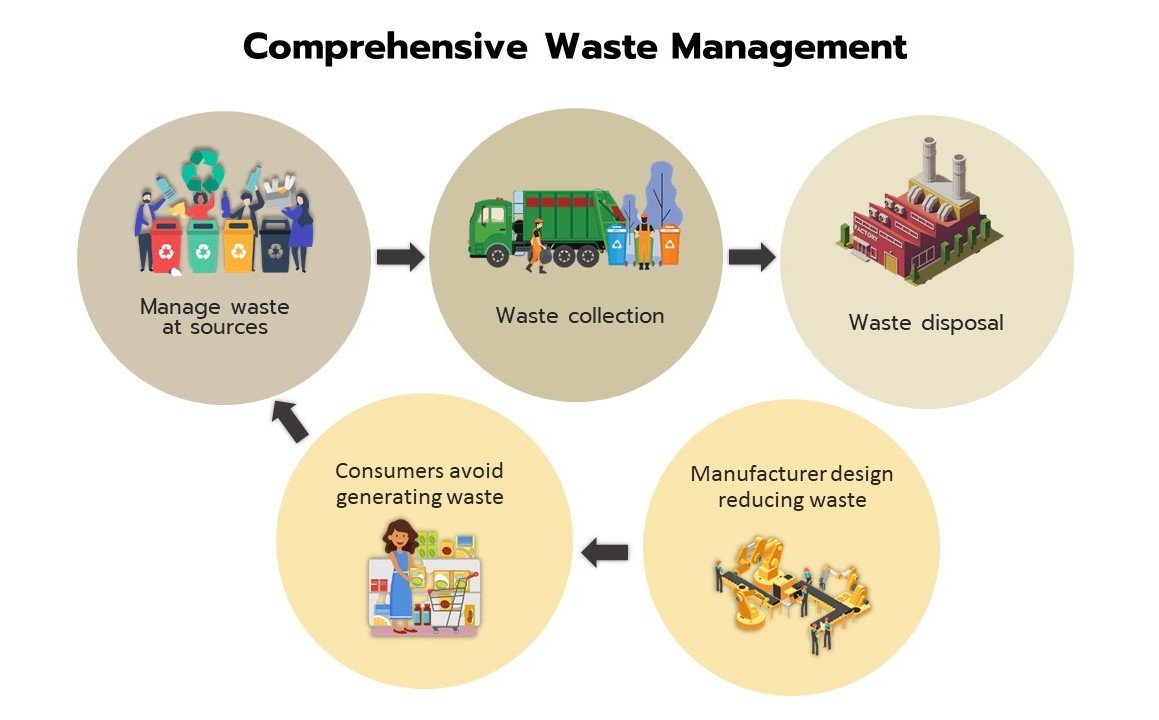 The concern whether waste reduction and segregation would decimate supply of waste materials required for power generation at facilities operated by local administrations is largely unfound since the change brought by the waste reduction and segregation would likely be gradual while amount of waste generated continue to grow with increase in populations and human activities. More importantly, the objective of waste management is not energy generation but rather appropriated segregation for appropriate disposal.
The waste segregation, particularly by removing organic materials, reduce moisture, increase thermal capacity, enhance incineration and therefore enable utilization of less waste materials to generate more energy. He pointed out that 50 tons of waste without organic materials can generate up to 1 megawatt of electricity.
Concerning a question on whether policies to reduce plastic use would alter waste composition and outcome of waste disposal efforts, the waste composition varies with national circumstances such as the failure to meet the target for plastic waste reduction in Thailand due to Covid-19 pandemic. He was of an opinion that any waste management must begin with waste reduction including by using plastic as necessary, maximizing utilization of plastic products, ensuring appropriate waste segregation and building effective management system at every stage of waste disposal.
Possibility for 4P: Pubic Private People Partnerships
Measures employed by the state for waste disposal were generally opposed by affected local populations. Local administrations who are legally responsible for waste disposal often faced with financial limitation in undertaking such action. Waste disposal has thus become an endeavor that required private co-investment, making local population less incline to embrace the undertaking particularly when site selection and operation cannot assure locals that any impact on communities and the environment can be prevented. The immediate priority for waste disposal is therefore to acquire information for identifying appropriate operation, measures for impact mitigation and actions to reduce complains.
A 2019 study on Pubic Private People Partnerships (4P) for energy solutions for waste disposal was supported by Power Development Fund and identified several joint mechanisms between the state and private sector. These include land use policies on additional land for the Waste to Energy endeavors in order to accommodate comprehensive pollution treatment systems, creating buffer zones to reduce impacts to communities and the environment and establishing funds for development of surrounding communities with systematic social programs and for mitigating and redressing impacts in timely manners.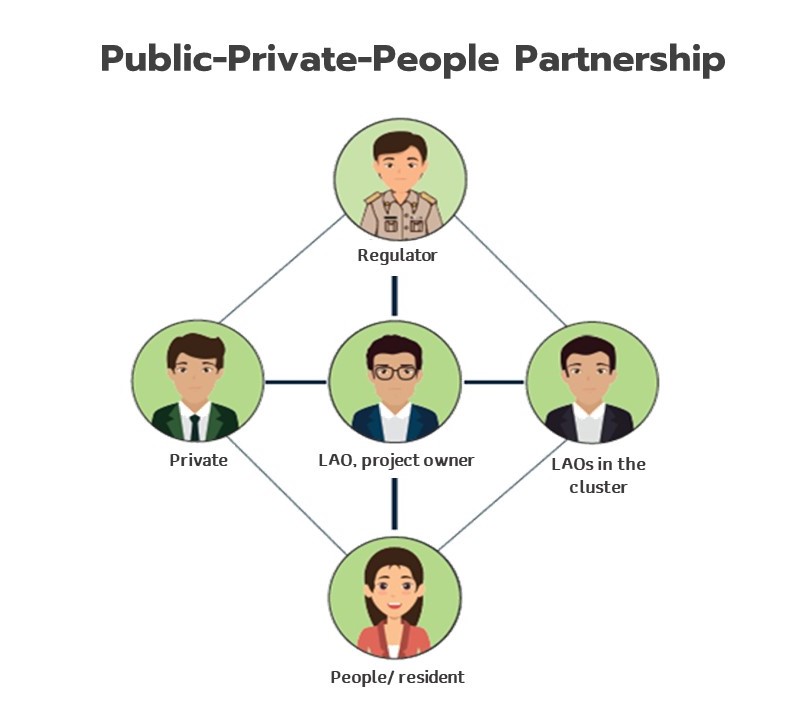 The study also took note of joint mechanisms between local administrations. Of these, the notables are formulation of waste management plans and committees in clusters of local administrations, development of stations for waste transport and offering discount on waste disposal fees to local administrations where disposal facilities are located. Joint mechanisms between local populations and local administrations found by the project include local laws that require waste segregation in areas where significant amount of waste is generated as well as providing discount or exemption on waste disposal fees to communities or organizations that reduce or segregate waste in accordance to pre-determined criteria.
Concerning whether discount or exemption on waste disposal fees for communities or villages would be in conflict with policies of Department of Local Administration (DLA) and State Audit Office of the Kingdom of Thailand (SAO), local administrations can enact a local or municipal law for the discount or exemption as a provision on waste disposal fee and may offer several levels of discount in accordance to amount of waste reduction at their discretion, providing that the local or municipal law is approved by the respected provincial committee on waste management.
Local administrations must identify what they need from any given waste disposal facility and must clearly specify such requirements in the terms of references (TOR) when hiring private enterprises to undertaking waste disposal tasks. Feasibility study is therefore of critical importance for such endeavor, particularly in pin-pointing fine details of the tasks. Investment viability of any energy solution for waste disposal would generally drive private partners to pursue for at least 20 year contracts. Minimum daily supply of waste for disposal is also need to be specified in order to ensure effectiveness and economically viability of the operation.
Building cluster of local administrations with the view to collectively generate no less than 300 tons of waste per day has not proceeded beyond signing of memorandums of understanding since the burden of carrying this endeavor forward has been left with the custodian of each cluster. Formulation of committees to administering the clusters is therefore of critically importance since they would allow their members to actively participate in constructive manners.
The provincial committees on waste management must have greater roles in planning and supervising waste management in their respect provinces, including projects on energy solutions for waste disposal. The capacity, knowledge and understanding on the energy solutions for waste disposal and the entire waste management scheme of the committee and associated parties must be enhanced. The committee as well as stakeholders from every concerned sector should.
However, recognize that the energy solutions for waste disposal is just one option to address waste accumulation and continuous increase in waste generation found in several large cities and towns and that complex process in initiating such endeavors may cause delay in their implementation. A proposal was thus presented to revise redundant laws and regulations in order to accommodate present needs and fill any loop-hole as well as to provide for mechanisms to enable stakeholders to supervise, monitor and evaluate the endeavors so that impacts to communities and the environment could be prevented. Although the final solution of waste disposal lies with the public where wastes are generated, much can be done to minimize bureaucracy that obstruct private investments and actions such as establishment of One-Stop Service.
---
Benjamas Chotthong and Sirinthip Boonyouang
Summarized form an online seminar on "Solutions for Waste to Energy?"
Organized by Thailand Environment Institute (TEI), 25 March 2021.
---