March 24, 2022 | 02:06 PM
EPR for Plastics in Viet Nam: Challenges and Opportunities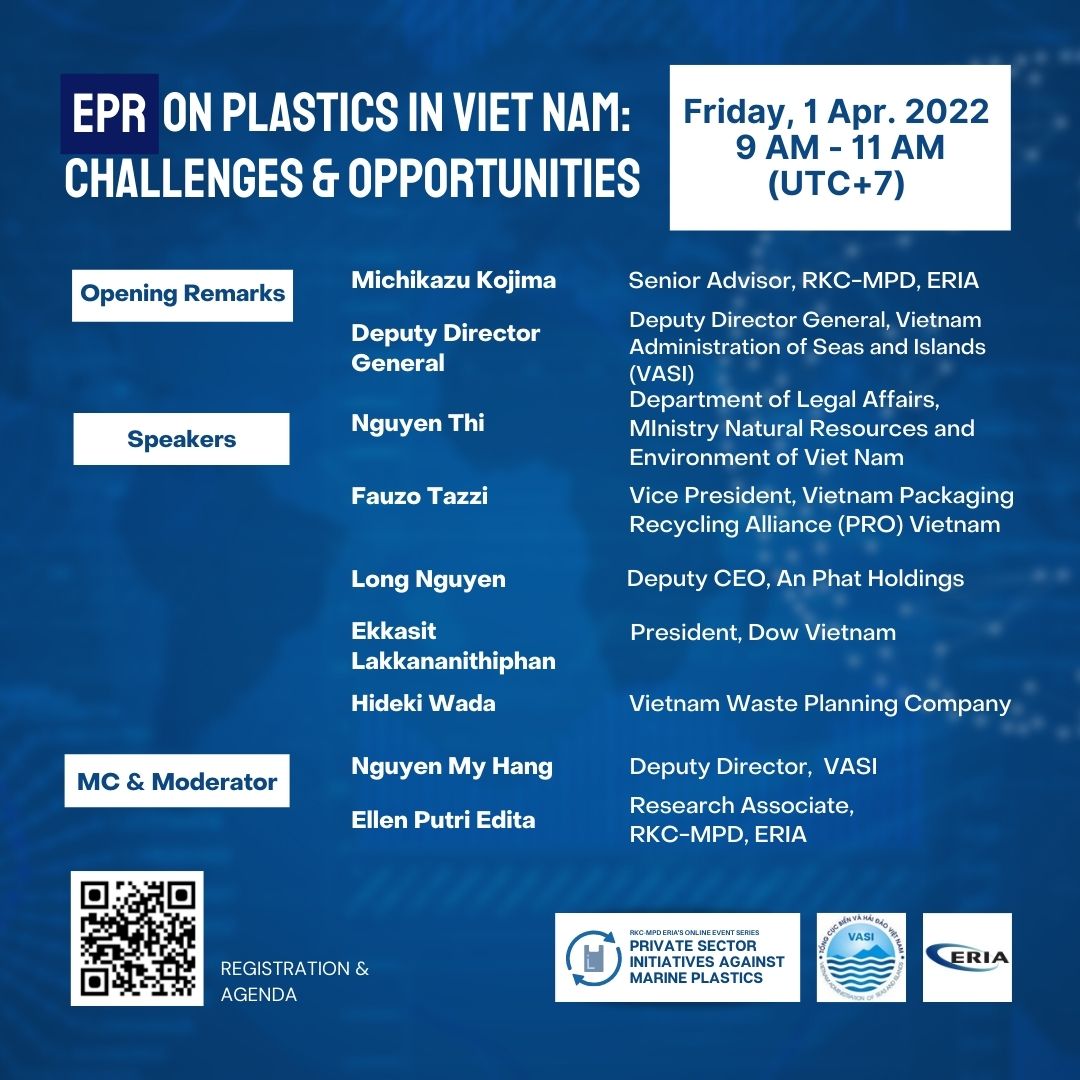 ASEAN+3 Private Sector Initiatives to Reduce Marine Plastics - online event series
The private sector in ASEAN+3 countries have been contributing significantly to the reduction of plastic waste and by consequence marine plastic debris in the region. Their efforts can range from both production and consumption (so-called "upstream") level to recycling and waste management (so-called "downstream") level. In Viet Nam, the new extended producers' responsibility (EPR) approach has come into effect in January 2022, which will impact business operations on plastic packaging including PET bottle, EPS, PSP, PVC, plastic container tray, and film. According to the EPR principles, producers will be in charge not only to produce such commodities but will be held responsible until the waste stage of their life cycle. How to effectively implement this policy and create positive impacts on the environment will be the upcoming challenges for the country.
ERIA's Regional Knowledge Centre for Marine Plastic Debris (RKC-MPD), in collaboration with the Vietnam Administration of Seas and Islands (VASI) of the Ministry of Natural Resources and Environment (MONRE), will shed light on the opportunities and constraints to implement EPR on plastics in Viet Nam by engaging in a discussion with the private sector, who will be the key stakeholder in the process.
The forum will be an occasion for Vietnam Administration of Seas and Islands (VASI), Ministry of Natural Resources and Environment (MONRE) of Viet Nam, a Vietnamese business alliance, Vietnamese private companies, and international businesses operating in Viet Nam to stocktake the progress made and discuss the many ways private companies can contribute to combatting plastic waste and marine plastic debris, especially taking into consideration the new EPR scheme. RKC-MPD will reintroduce the Private Sector Platform (PSP) to the public, particularly to the private companies, to raise more awareness of the platform and attract a larger number of private companies to join the fight against marine plastics.
Event Details
Date: Friday, 1 April 2022
Time: 9 AM - 11 AM (Jakarta time, UTC+7))
RSVP:
https://www.eventbrite.com/e/epr-for-plastics-in-viet-nam-challenges-and-opportunities-tickets-294413969107
---
Webinar Agenda
Hosted by the RKC-MPD of ERIA and VASI, the Webinar will last 2 hours via Zoom platform with a moderated panel discussion.
TIME
AGENDA
9 AM – 9:15 AM
Start of Webinar by MC Ms Ellen Putri Edita (ERIA)
Welcome Remarks:

Michikazu Kojima, Research Fellow, RKC-MPD, ERIA
Deputy Director General - General, Vietnam Administration of Seas and Islands (VASI)

9:15 AM - 10:15 AM
Panel Discussion
Speakers:

Representative from Policy Department of MONRE (on new EPR regulations in Viet Nam as well as difficulties)
Vietnam Packaging Recycling Alliance (PRO Vietnam) (TBC)
Private Vietnamese Company (TBC)
Mr Ekkasit Lakkananithiphan, the President of Dow Vietnam
Mr Hideki Wada, Director, Vietnam Waste Planning Company

Moderated by Dr Nguyen My Hang, Deputy Director of the Department of Science, Technology and International Cooperation (VASI), and Ellen Putri Edita
10:15 AM -10:50 AM
Q&A
10:50 AM -10:55 AM
Introduction of RKC-MPD's Private Sector Platform
10:55 AM - 11:00 AM
Closing of the Webinar
The webinar will be in Vietnamese and English with simultaneous translation.
For more information, please visit
https://www.eria.org/events/epr-for-plastics-in-viet-nam-challenges-and-opportunities/
---